Family wants change after schizophrenic son strangles mother | News
JACKSONVILLE, Fla. — For the first time, the family of a man accused of killing his own mother inside her Arlington Apartment is speaking out.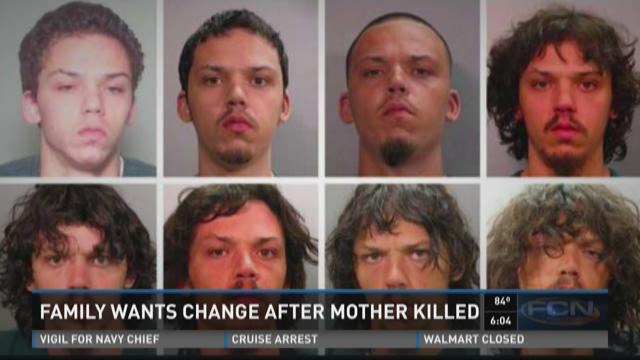 They say they desperately sought help for a mentally ill loved one before the illness tore their family apart.
"She was an amazing person... Scottish lady... very short."
Four-feet, 11-inches to be precise.
Jonathan Harriford said his mother's stature was belied by her enormous generosity.
"Her heart was bigger than the world," he said.
She was a breast cancer survivor who worked at Publix.
"The line would wrap around the store so people could talk to her for two minutes," Jonathan said.
He said life growing up in Arlington with mom, dad and brother Sean was normal.
"We'd play sports a lot growing up. Whether it was just throwing a football in the front yard or playing basketball."
Sean is six years younger than Jonathan.
In 1999, Jonathan enlisted in the marines and left Jacksonville.
When he came home he found his brother had changed.
"Next thing I know he is in and out of jail in Duval County and the mental Health system and that became a revolving door," Jonathan said.
Sean was diagnosed as Schizophrenic.
"It wasn't him anymore. A lot of schizophrenic episodes. He would talk to the air and talk to me about seeing demons," Jonathan said.
From seeing demons to arrests for trespassing and then - the worst.
A mother killed at the hands of her son.
"He loved my mother more than anyone so imagine waking up to find out you did that to the person you love."
Ten months ago.
Janette Harriford's body was found inside of her bedroom.
According to police, her son Sean confessed to suffocating her.
Police said Sean had been Baker Acted 17 times, and his mother had an injunction for protection against him.
"It's very unfortunate that my mother had to lose her life while we were trying to advocate and get help through the system," Jonathan said.
Jonathan said he'd go back and forth from the courthouse to mental health facilities trying to get help for Sean.
He wants to know why mental-health professional didn't do more.
He wants change, long-term treatment options for the severely mentally ill, an overhaul of the Baker Act and a mandatory mental health court system.
"Having a mental health court system would have provided him treatment and given him oversight that would have really helped him," Jonathan said.
Denise Marzullo, CEO of Mental Health America of Northeast Florida, wants change, too.
"We do treat out pets better than we treat people with mental illness. There is such a stigma around mental illness and people are afraid of it," Marzullo said.
Even though Jonathan's realizes some people might fear his brother he believes proper treatment can help.
Here's a pictures from his last visit to see Sean, who is now locked up in a state mental hospital.
Jonathan knows his mother is looking down and making sure he stands up for his brother.
"Overall she would tell him that she forgave him because he's not in his right mind and she'd want him to get help," Jonathan said.
Now 29-years-old, Sean Harriford was found incompetent to stand trial in March.
When asked where he sees his brother, or what kind of place he wants his brother to stay, Jonathan said that kind of place doesn't yet exist.