Arlington house intentionally rammed by truck: JSO | News
JACKSONVILLE, Fla. — A woman in Arlington was jarred from her sleep Thursday night when a angry man drove his pick-up truck into her living room.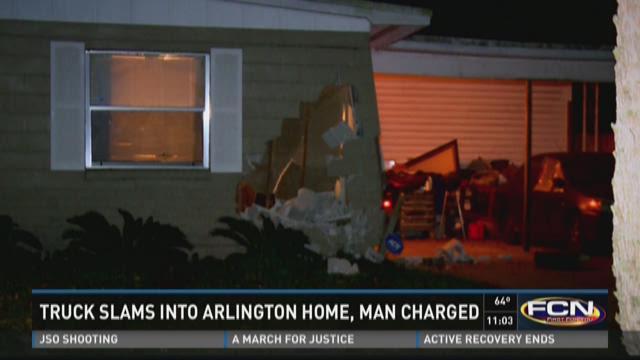 The Jacksonville Sheriff's Office says an apparent dispute between the woman's husband and Joshua John Brown led suspect to ram his truck into the cinder block home.
First Coast News spoke to the victim's husband shortly after it happened. Anthony Skobic said he his wife are lucky to be alive.
According to witness and victim accounts, Brown drove his Ford truck into the cinder block house in Arlington around 7 p.m. The impact caused more than $15,000 in damage and destroyed a T.V. in the living room.
Brown then allegedly got out of the truck and screamed at Skobic's wife when she came outside.
"Tell him to come out here," Brown screamed to his wife, according to witness accounts. "I'm going to [expletive] kill him."
The victim told Brown,35, that Skobic wasn't home, so Brown got back into his truck and left.
The homeowners then called JSO.
JSO says it was eventually able to track Brown down after going to his home and speaking with his wife. While there, investigators saw a truck with front end damage and piece of cinder block stuck in its front bumper, according to an incident report.
Investigators say they found Brown a short time later walking on St. Johns Bluff Road, and he willingly stopped and told the investigator his account of what happened.
JSO did not disclose Brown's apparent motive for allegedly ramming his truck into the house. His statement was redacted in the JSO incident report. But after his statement, Brown was arrested.
He is charged with aggravated battery with a motor vehicle used as a weapon.
Skobic's wife was scratched by pieces of cinder block that flew through the home when the truck collided with the home.
"Couldn't be more grateful that my wife is okay - I don't care about the house," Skobic told First Coast News.