Child found wandering in roadway on Beach Blvd. | News
JACKSONVILLE, Fla. -- For the second time in two days, a child has been found on a local roadway wandering alone.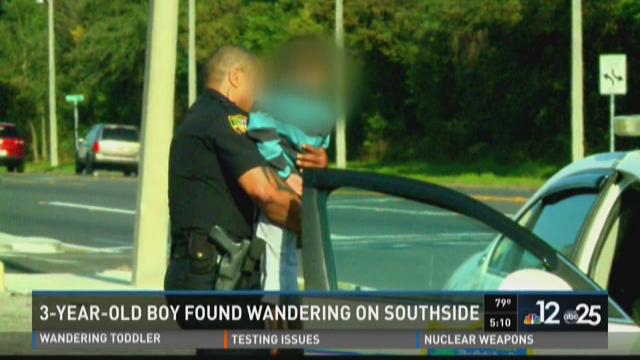 It happened Monday morning on U.S. 17 in Palatka when a toddler got away from a child care learning center through an unlocked gate.
Now, it has happened again along Beach Boulevard on Jacksonville's south side.
Around 8:30 a.m. Tuesday, witnesses called 911 after seeing a 3-year-old boy in traffic near the intersection of Carmichael Avenue.
"His parents were nowhere to be found. He was totally by himself. As a parent, I don't understand how you don't know where your child is," said Jessica Lapointe.
Lapointe operates a coffee truck at the nearby Jacksonville Food Truck Food Court and was about to close up shop when she saw the boy.
"He didn't seem scared. We asked him if he was hungry or thirsty," she explained.
By that time, one other woman had intervened.
Monteal Laurie was on her way to work and stopped her car in the middle of the road to get the boy out of harm's way.
"I would lose my mind if it was my child. I had to make sure he was okay," she said.
Laurie put the boy in her car and pulled over into a parking lot to wait until help arrived. The entire time, she said, the boy was calm.
"He didn't have any scars. He didn't look bad. He wasn't groomed bad. He looked fine," she described.
Not long after the Jacksonville Sheriff's Office arrived, the child's mother, Nan Chit, came running frantically from a nearby apartment complex.
According to the official police report from the case, Chit is a stay at home mother who was asleep when the boy went missing.
He reportedly climbed onto their couch to unlock their front door so he could follow older kids to school.
But, when the other kids continued on, the child ended up alone in traffic in the 3800 block of Beach Blvd.
Laurie said she was surprised he wasn't hurt. "He almost got hit by several cars. They didn't stop. They swerved around and kept going."
According to a spokesman for the Florida Department of Children and Families, the agency is investigating the case.
JSO did accompany the boy and his mother back to their apartment and found it to be well-maintained with no signs of abuse.
The good Samaritans, meanwhile, are thankful this latest incident did not end in tragedy.
"I'm happy he didn't get hit. I'm happy he's safe," Laurie said.
Lapointe added, "That could have been so tragic. He could have been hit by a car."