4-year-old struck by car; witness: 'I get chills thinking about it.' | News
Title (Max 100 Characters)
4-year-old struck by car; witness: 'I get chills thinking about it.'
JACKSONVILLE, Fla. — It's an afternoon witnesses say will be etched in their memories for quite some time.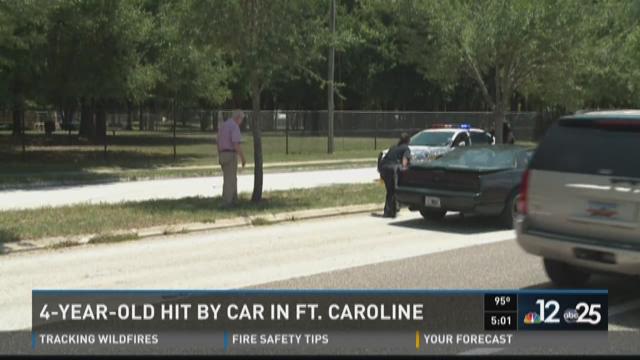 A four-year-old boy was hit by a car after running out of Victory Park in Arlington along Ft. Caroline Road.
He was taken to the hospital with life-threatening injuries. Jacksonville Sheriff's deputies say the boys head hit the ground.
"That boy was in the park one second and the next second he's fighting for his life," said Dennis Robinson who hosts baseball camps nearby.
He was among a handful of people who ran to the roadway attempting to help the four-year-old and his mother after the boy had been hit by a green Pontiac Firebird.
"I heard the mom scream and that was probably the biggest eye-opening thing," said Robinson. "You knew it was serious when you heard that mom. She almost couldn't stand up, she was really emotional at the time."
Police said as the boy played in Victory Park Tuesday morning, he ran through an opened gate, across the westbound lanes and after crossing the median he was hit by a car. Officers tell FCN the 69-year-old driver saw the boy and slammed on his brakes, but it was too late.
"I ran down the street because, like I said, I thought it was one of my grandchildren," said Vinette Wilder, a Grandmother of seven.
She said her heart sank when she saw the child laying in the roadway.
"When I got there, I saw the young man on the ground. He was bleeding," said Wilder. "We wanted to keep him calm so we started talking to the mother and I came into tears."
Wilder said the driver of the Pontiac told her after Tuesday's accident he doesn't want to get behind the wheel of a car ever again.
She said as the weather heats up and with kids out of school, this serves as reminder to us all.
"Ft. Caroline is a busy road," said Wilder. "And to any parent with small children, keep them under your eye watch. That's all I can say."
"It just was a scary scene," said Robinson. "It was definitely an eye opener."
Police said the gate was open when the boy ran out of Victory Park. The gate's lock appeared worn and barely functional. FCN reached out to the city, and they sent someone to inspect the lock. We're told any needed repairs will be made as soon as possible.
According to JSO, the driver was not at fault and will not be charged.